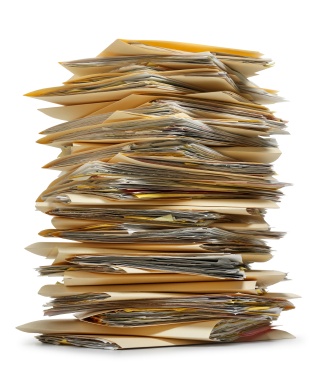 Most employers know that when they hire a new employee, they must have the employee fill out a Form W4 so the employer can determine the amount of taxes to withhold from the employee's paycheck.  Unfortunately, there are other forms new employees must fill out or the employer could be subject to penalties.  This post will describe those other forms.
Form I-9
Form I-9 is required to document verification of the identity and employment authorization of each new employee (both citizen and noncitizen) to work in the U.S.  Employers are responsible for completing this form and retaining the form.
Newly hired employees must complete and sign Section 1 of the form no later than the first day of employment.  Under this section, the employee states his citizenship/residency status under penalty of perjury.  The employer must then obtain documentation that verifies the employee's identity and employment authorization.  This can be done by obtaining a copy of the employee's driver's license and Social Security Card, although other forms of documentation may be obtained.
Michigan New Hire Reporting Form
Federal law requires employers to report information about newly hired and rehired employees to a state agency within 20 days of the hire/rehire.  The information on this form is matched with state and national data to help collect child support through income withholding and reduce fraudulent unemployment and workers' compensation payments.
A copy of the Michigan New Hire Reporting Form can be obtained here.
Affordable Care Act Notices
This requirement came into existence two years and is described in more detail here.  An employer covered by the Fair Labor Standards Act must provide each of its employees (part-time and full-time) with a notice informing the employees of their right to enroll in health insurance coverage through a state insurance marketplace (exchange).
Employers who have at least 1 employee engaged in commerce and who have gross annual sales of $500,000 or more are covered by the Fair Labor Standards Act.  So many employers are subject to this requirement.
The Department of Labor has two model forms employers can use to give to their employees.  If you already provide health coverage for your employees, use this model form.  If you do not provide health coverage for your employees, use this model form.
Form W-4
Finally, employees fill out Form W-4 so their employers can determine how much estimated tax should be withheld from the employees' paychecks.   If an employee's allowances under state income tax differ from the number of allowances under the Federal Form W-4, the employee may fill out a Form MI-W4 to claim a different number of allowances for state income tax purposes.
If you have questions on how this relief applies to you, give us a call.
Buzzkill Disclaimer:  This post contains general tax information that may or may not apply in your specific tax situation. Please consult a tax professional before relying on any information contained in this post.